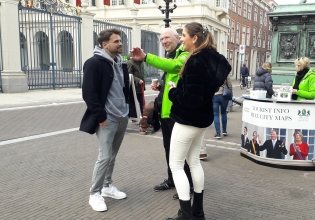 Hospitality
Our core activity is providing City Hosts to offer visitors a friendly welcome to The Hague. Our 200 City Hosts provide visitors with the ultimate hospitality experience. We try to create an experience that exceeds expectations. By doing so, we hope that each visitor will become an ambassador for The Hague.
More than 100 days a year, our City Hosts are active in the city, on different occasions and at different locations. They welcome visitors with a big smile and help them find their way in our city.
Composition
The volunteers come from all walks of life in The Hague. From students to retirees, from full-time workers to job seekers and so on. As many as 80% speak at least two foreign languages and over 25% speak three or more. We also have volunteers who speak non-European languages, such as Hindi, Bahasa, Mandarin and Arabic. This enables them to offer a personal welcome to visitors from almost anywhere in the world.
Professionals
We place a high value on professional competence. We organise several training sessions a year for our volunteers. The central themes for these sessions are hospitality, sharing the lessons learned and expanding their knowledge of the city. As a result, we have skilled volunteers who can perform their duties in a professional manner.
Functions
The volunteers fulfil various functions. The primary functions are City Hosts, in addition there are some supporting functions, such as Logistics Assistant, Communication Assistant and Office Assistant.
Below follows a brief explanation of each function
City Hosts
Together with a team of their colleagues, City Hosts are stationed at a city location to welcome visitors and provide them with (tourist) information.
Logistics assistant
Each City Host team that is active in the city has its own information booth. The logistics assistants ensure that it is transported and assembled on time. They also take care of logistics such as catering, for example.
Communication assistant
When the City Hosts are active, editors and photographers travel to several of these locations to gain impressions, conduct interviews and collect images. These reports with information and images of the event and the contribution of the Embassy of The Hague are distributed through various communication tools.
Office assistant
As an office assistant, you will support the coordinator in the office to prepare the assignments, organise the benefits and perform other office tasks.
Sign up as a volunteer