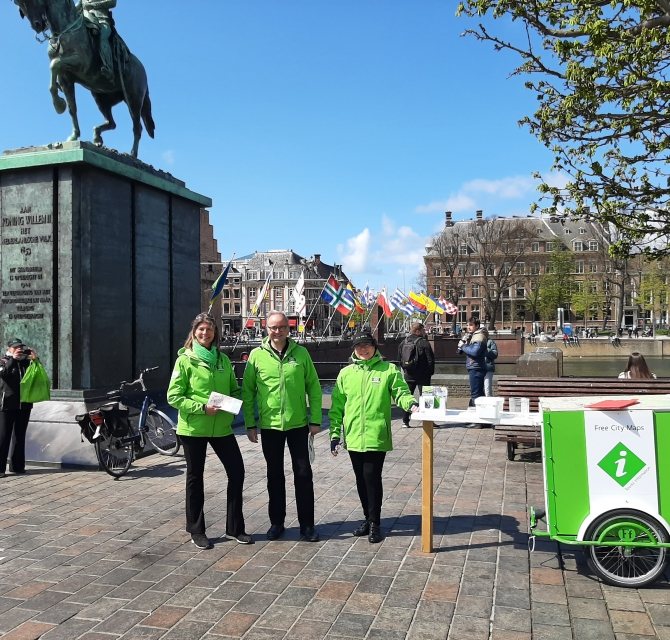 Job description for City Host
We are looking for City Hosts. Proud residents who are friendly and welcoming, have knowledge of The Hague and enjoy meeting people.
Tasks
Welcome visitors, answer questions about the city, events and activities and advise visitors on how to get from A to B.
Sign up as a volunteer!
What do we expect from you?
Function requirements
You are 18 years of age or older and have at least a secondary vocational education (MBO+) level.

You live in the Haaglanden region.

You have extensive knowledge of the city of The Hague.

You have an excellent command of Dutch, also speak English and preferably another foreign language.
Competencies
Customer-driven
Learn the wishes and needs of visitors and act accordingly. Anticipate visitors' needs and prioritise good service and customer satisfaction.
Social skills
Ability to easily approach visitors and interact with a group.
Cooperation
Contribute to a shared goal by aligning one's own qualities and interests with those of a group or colleague.
Listening skills
Pick up important information from conversations with visitors. Continue to ask questions and respond to reactions.
Dedication
You want to continuously improve yourself and you are willing to follow training courses to do so.
Commitment
You work at least 10 shifts per calendar year (a shift is 4 hours).

You participate in the annual hospitality activity.

You follow the rules of the organisation.
What can you expect from us?
As a City Host, you will volunteer your time and energy to provide visitors to The Hague with a warm welcome and you gain unique experiences. You also get something in return:
You will be trained in hospitality.

You will receive a briefing for your activities as City Host.

We organise an annual hospitality activity for you.

In addition, we organise a number of other appreciation activities in which you can participate.

You receive a special City Host outfit.

You will be offered coffee/tea and a sandwich during your shift.

We reimburse you for any public transport costs you incur to travel to your shift.