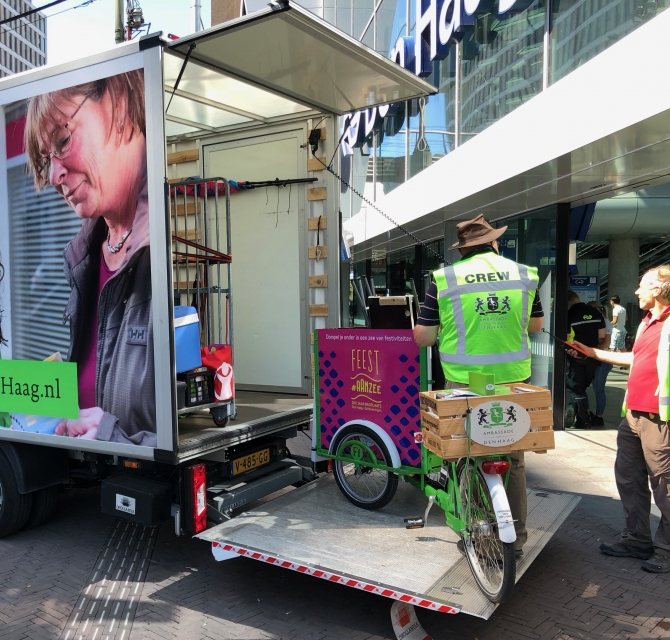 Job description for logisticsassistant
The Embassy of the Hague has over 200 volunteers who are proud residents of The Hague and give visitors a warm welcome and provide tourist information. Through this commitment, we are fulfilling our mission: Create an outstanding hospitality experience for visitors and residents of The Hague. Hospitality is the core value in all of our work.
We are looking for Logistics assistants. Proud residents who exude hospitality and have an affinity with logistics operations.
Purpose of the function
Deliver the materials for the information booths to the correct locations on time and assemble and disassemble the booth.
Sign up as a volunteer!
Tasks
Collect and return the van.

Ride the cargo bike from A to B.

Prepare the materials for the information booths.

Load and unload the materials in the van.

Transport the materials.

Assemble and disassemble the information booths.

Return the materials to the warehouse.

Complete the checklist and logbook.
What do we expect from you?
Function requirements
You are 18 years or older and have at least a secondary vocational education (MBO+) level.

You live in the Haaglanden region.

You have a driving licence category B.
Skills
Spatial awareness

Technical insight

Good driving skills

Planning skills
Commitment
You volunteer at least 10 shifts per calendar year (a shift is about 6 hours long).

You participate in the annual hospitality activity.

You follow the rules of the organisation.

What can you expect from us?
As a Logistics assistant, you volunteer your time and energy.
You also get something in return:
 
You will be trained in hospitality.

We organise an annual hospitality activity for you.

You will receive a briefing for your tasks as a Logistics assistant.

You will be trained in correctly loading the truck and assembling and disassembling the information booths.

We also organise various appreciation activities in which you can participate.

You will be offered coffee/tea and a sandwich during your shift.

We reimburse you for any public transport costs you incur to travel to your shift.